Try Before You Buy
We understand the importance of being able to trial hardware and software before making a commitment to purchase.
With our Virtual Site Survey, you can emulate how RFID will work in your environment with a virtual floor plan and emulated Readers, Antennas and Tags.
Sometimes it's best to have the hardware in hand to test with. That's why we offer Demo Kits including an RFID Reader, Antennas and Tags.

Compatible with Most RFID Readers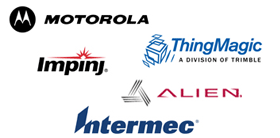 ClearStream RFID is compatible with most Fixed RFID Readers running LLRP from Motorola, Impinj, Intermec, ThingMagic and Alien.

New Features in ClearStream 3.0
We are excited about the new features added in version 3.0. These include our new Virtual Site Survey for emulating an RFID environment and our Public API for controlling readers from anywhere.
Single Reader multi-destination architecture
Support for reading of all Tag Memory Banks
ASCII conversion of EPC and User Memory data