Retail RFID for Any Size Store or Any POS System
Retailers need accurate inventories, real time merchandise locations and enhanced security. ClearStream RFID integrates seamlessly to most POS system databases streamlining store operations while reducing labor costs.
No matter your company size, the more time an employee spends looking for, adjusting or counting inventory, the more it affects your bottom line. With ClearStream RFID, retailers of any size can demo, design and deploy a fixed RFID solution that matches your current processes and is scalable to meet your changing needs.
RFID Features for Retail:
Ring alarms and send alerts if items travel through unauthorized areas.
Vendor Managed Inventory capable via Beacon and UHF technology.
Item level tracking via unique RFID EPC (Electronic Product Code) values and Identify stolen and missing merchandise.
Add directionality to items and employees to know whether they are coming and going.
Track inventory instantly down to shelf and rack level.
Call us now at 877-640-4152 to Learn More.
How ClearStream RFID Works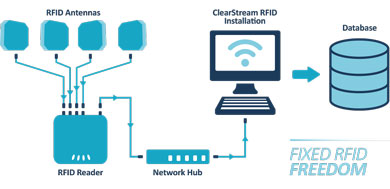 Simply connect your RFID reader to your network and the ClearStream RFID software to the backend of your choice and start streaming data.
Add TracerPlus Mobile RFID to your ClearStream Solution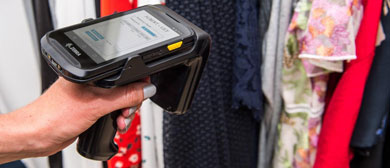 Combining TracerPlus with ClearStream RFID gives customers a complete RFID solution, and when integrated with your current retail solution, you can have a system that meets your needs offering more features and power than what the big boys have.