RFID Enabled Check In and Out Eliminates Manual Error
On average, 5% of corporate Assets in a well-run organization are unaccounted for at any one time. The most common reason for the loss is human error, forgetting to check out the asset from a storeroom. A ClearStream RFID Fixed RFID Solution can bring this number down to less than one percent by eliminating paper and barcode enabled check in / check out processes that are time consuming and error prone.
Contact PTS today to learn more - 1-877-640-4152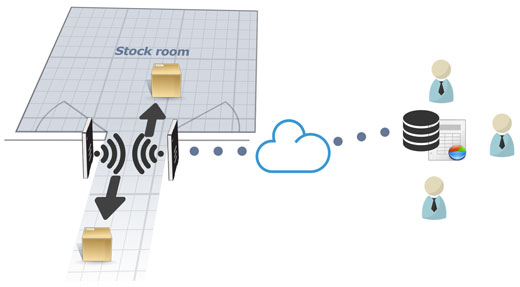 ClearStream RFID Check In Check Out Highlights:
Unattended "Check In / Check Out" of any asset or part
Automatically updates any Database with asset location
Easily configured to sound alarms and lights via GPIO
Automatically time stamps asset location update times
Capture asset direction - Check In / Check Out
Compatible with most RFID Readers
Easily configured to handle multiple antenna layouts
Connect to ODBC databases (Access, Oracle, MySQL, SQL Server and more), Microsoft Excel or tab-delimited text files
Captures all data written on RFID tags
Talk To a ClearStream Representative
Dial 1-877-640-4152
PTS specializes in AFFORDABLE RFID Solutions. We are the only software developer that offers Free To Try Mobile and Fixed RFID software. Please take the time to call us and learn if RFID is right for your organization.
This customer called us - See What They Did!