JADAK ThingMagic IZAR UHF Fixed RFID Reader
The JADAK ThingMagic IZAR RFID Reader is a compact, programmable, network-attached reader with both read and write capability. State-of-the-art performance of over 750 tag reads per second allows the IZAR to be used in a wide variety of applications such as retail, transportation, and medical customers.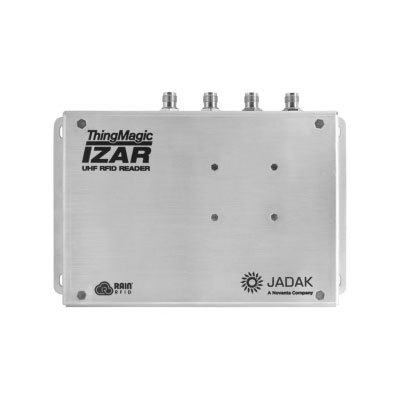 Device Reviewed: IZAR (View Full Specs)
What we like about it:
Excellent read range with high sensitivity and high output power (+31.5 dBm).
Fully compatible with ClearStream RFID using the LLRP connection.
Offers Power over Ethernet (PoE) for easy installation.
Read rate of over 750 tags per second (in an optimal environment)
Flexible IO with 4 inputs and 4 outputs.
What we didn't like about it:
Ports are not all on a single side of the reader.
Summary
The ThingMagic IZAR 4 port UHF reader from JADAK offers great performance and features in a compact design. With a high maximum output of 31.5 dBm and a read rate of over 750 tags per second the IZAR can capture many tags and at a great distance easily. The IZAR sports a fast processor and 4 inputs and 4 outputs to handle many different RFID applications. The IZAR also supports power over Ethernet to ease installation. All the features of the reader are supported within ClearStream RFID utilizing an LLRP connection to the reader. The reader is limited to 4 antenna ports, and the ports are wired on both the top and the bottom of the reader.
Learn more about the JADAK IZAR UHF RFID Reader