Michigan High School Student's School Safety System Wins Hackathon, with Assist from Portable Technology Solutions
Michigan (Oct 22, 2019) - Last year, while the country was roiled by news of yet more school shootings, Michigan 10th-grader Yousef El Chafei was taking a class in computer programming and wondering if there was anything he could do to help out. So when the Walled Lake School District's hackathon came along with the challenge to create a program that could help people in their everyday lives, Yousef thought about his fellow students and knew what problem he wanted to tackle.
"I felt that students and staff needed to feel safe," Yousef said, explaining what led him to develop S4, the Students & Staff Security System, which ended up taking first-place honors at the competition and winning Yousef $750.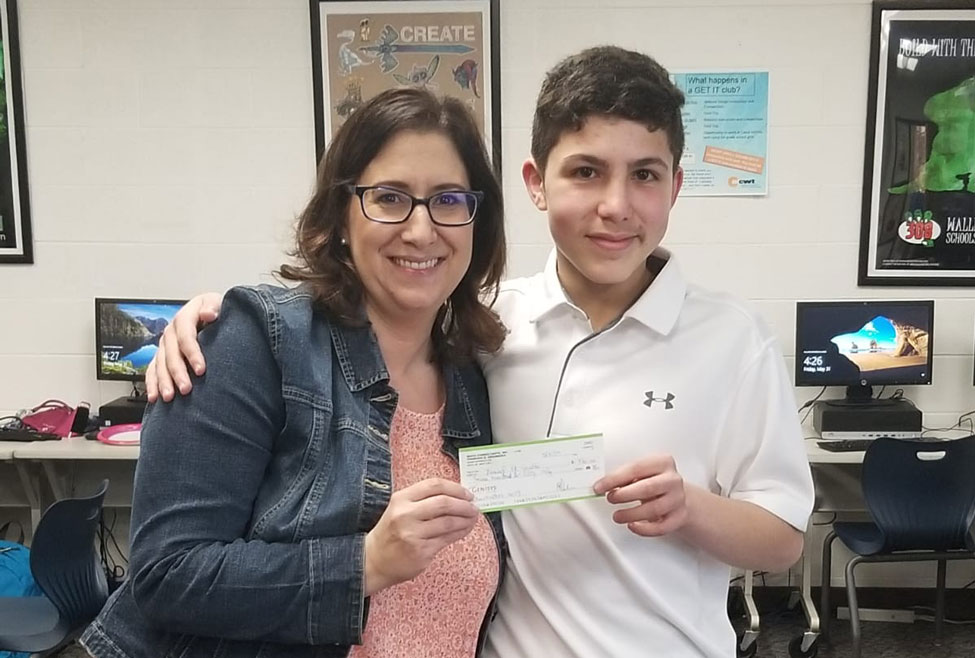 Yousef conceived S4 as a tool for keeping track of who was in a school and where, potentially life-saving information in the event of an emergency such as an active-shooter situation. He got the idea from his father Rami's work helping Fortune 500 companies and other businesses track their assets using RFID technology. When Yousef asked his father if RFID could be used to track students and staff at his school, Rami encouraged him to get in touch with his contact at Portable Technology Solutions (PTS), the Long Island-based developer of versatile RFID software.
"He took my advice, which he doesn't do often," said Rami. Yousef sent an email detailing his project to account manager Kristin Comeau at PTS, who supplied him with a license key for their ClearStream fixed-RFID application and told him to check in with the PTS support team if he should need a hand. With the help of a ClearStream instructional video on YouTube, Yousef configured the software's check-in/check-out template.
As Rami put it, "From my experience there is no other product in the market that can help us aggregate the information like ClearStream, so I knew this would be a perfect application for Yousef." Though Yousef was using one of the first RFID readers for the project, an old Zebra model, the latest version of ClearStream was able to detect the reader right away. "It was also cool how easily we were able to rename the RFID antennas" used for the demonstration, Yousef said.
For the hackathon, Yousef set up three antennas—labeled "ENTRANCE," "HALLWAY," and "EXIT"—and had the judges hold an RFID card while walking in and out of the large room where the competition was held. They could see their names appearing on the screen for each location.
A full-scale implementation of Yousef's idea in his school would require about 100 antennas in addition to the software, RFID reader, and database for collecting, reporting, and analyzing the information on staff and student location. "There would be an antenna at the outside of the school, and as students walk in with the [RFID] bracelet on it would send to administrators that this and this student walked into the building. There would also be antennas in every hallway to accurately know who's in which hallway," Yousef explained.
At the hackathon, Yousef watched as a competition that started with over thirty students from freshmen to seniors was reduced to seven kids, including some who were partnering on the same project. "I was really nervous," Yousef remembered. "They were counting the names down, like, 'third place' and I was thinking, 'am I even up there?'" He had to wait until last to hear his name, as the judges announced that he and S4 had placed first.
"It felt really good" to win, he said, but "the most important part about it is safety." He's not alone in feeling this way; Rami, noting that the "Number one responsibility for any principal is the safety and security of the students and staff," recounted that Yousef's principal thought it was a great idea and expressed interest in implementing it at the school.
Meanwhile, Yousef has just started 11th grade and taking AP Computer Science where he's learning to code in Java and Python, with an eye towards a career in programming.
And that $750 prize? "For college or university," Yousef said, "maybe it could be a good boost."
About PTS:
Portable Technology Solutions, LLC (PTS) is a leading provider of user configurable, mobile data collection software and systems with 7,000-plus, active customers. PTS -- developer of the TracerPlus line of mobility software along with ClearStream RFID creates user customizable and affordable mobile data collection and integration software that does not require programming experience to configure, deploy or use.
Founded in 2000 and headquartered in Calverton, NY, Portable Technology Solutions also maintains an active presence in Europe and partners with mobile hardware manufacturers, worldwide distributors, and OEM solution providers.