Long Island's Portable Technology Solutions (PTS) Helps Florida Students Address School Shootings
Gives High School STEM Team the Tools It Needs for a High-Tech Solution
Miami, FL (May, 2016) - With the help of a Long Island company, three Florida high school freshmen are using technology and ingenuity to try to end school shootings. Faced with the challenge of designing a group capstone project for their STEM [Science, Technology, Engineering, and Mathematics] class at Scheck Hillel Community Day School in Miami, Florida, Esther Benasayag, Albert Wolak, and Abraham Woldenberg looked to recent headlines and tried to find a way, as they put it, "to save lives."
The team thought that RFID (Radio Frequency IDentification) technology could be used to alert schools to guns coming through their doors, an idea inspired by a ski trip where Woldenberg encountered RFID chips embedded in lift tickets. "Every time you go on a lift, the RFID knows that you went through and it tells you through an app how many feet you skied by knowing exactly which lifts you went on and how many times. I was like, 'Hey, you can do a lot of cool things with RFID'—I think that's one of the factors that brought the idea into my head."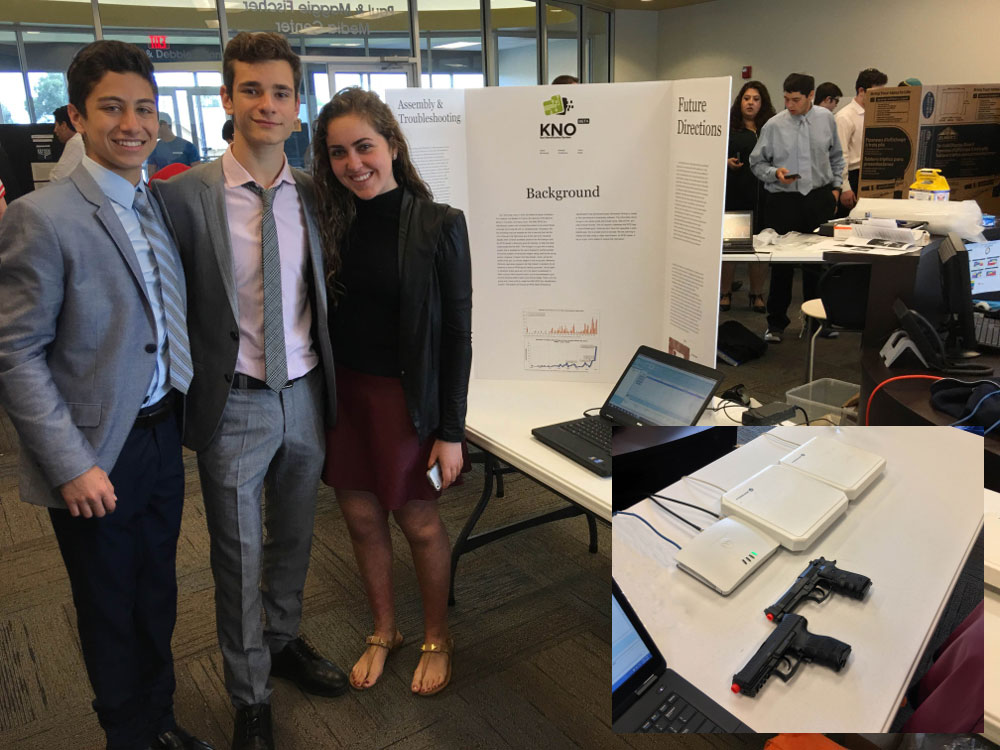 Overcoming Budget Obstacles
But as the group set about researching the equipment they would need to carry out their project, they ran into a problem: each team in the class was allowed to spend only $100. "We couldn't find a system for less than $2,000," said Woldenberg. "I told them, 'This may not be feasible,'" said their teacher, Charlie Mahoney. "In addition to [the cost], I don't have a background in this sort of technology, so a lot of it was going to be up to them."
The students however, were not deterred. While scouring the Internet for answers, they came upon the website for Long Island-based Portable Technology Solutions (PTS), featuring a trial version of its ClearStream RFID software, which enables users to build customized RFID applications. They noticed that PTS also offered a loaner demo kit so that businesses lacking the necessary hardware could test the software. So they wrote PTS CEO Brad Horn to pitch the project. "I said, 'Let's go check them out and tell them our idea and maybe they'll give us a demo,'" said Woldenberg. "Maybe they'll like it and want to help us out. And now here we are—it worked out pretty well."
"I thought what those guys were doing was kind of amazing, especially at their age," said Horn, who had PTS send the students a demo kit with RFID chips, Zebra fixed readers, and fully operational ClearStream software—a package with a value of about $4,000.
"The Debate Club"
The team realized that their project had the potential to stir up controversy—and so it did, starting with the students themselves. "In the class, we started referring to this group as 'the debate club,'" said Mahoney, laughing. The debates within the group started with the initial question of cost and continued to include such topics as Second Amendment and privacy rights. The RFID software enabled them to not only detect when a RFID-enabled gun had entered the building but also show information about the gun owner.
Consulting with PTS lead developer Howard Heckman, the team developed a program that, when and if a gun entered the school, would instantly pull up the owner's photograph and relevant data, such as whether or not the owner was law enforcement or had a criminal record—"basically, a whole bio that would help security determine if they should watch this person with caution," explained Woldenberg. On April 13, the team presented their initial project at a statewide conference of STEM classes within the Florida CIJE (Center for Initiatives in Jewish Education) network. The students used a BB gun for the test, resulting in a successful POC, or "proof of concept"—a tech term for a demonstration that the theoretical can work in practice.
"To be able to find all the resource and put them all together with a database and everything that they had to do was very impressive" for students that met only four days a week between January and April, noted Mahoney with pride.
Moving Forward
Of course, the students' solution would face legislative hurdles before it could work as a real-world answer to school shootings. Manufacturers would have to be required to embed RFID chips in their guns, something that the military does in certain cases but has yet to happen with civilian arms manufacture. Legislation would also be required if RFID chips were to allow access to information about registered owners.
The students are acutely aware of these issues, and are now taking their work into the political realm. "We knew from the beginning that if we were going to move forward we would need to change some of the laws," said Woldenberg. To that end, Woldenberg and Wolak recently met with their congressman, Ted Deutch (D-FL 21) in Washington, DC, to discuss their project, and they plan a follow-up demonstration for the press and public in a few weeks.
"We need to publicize it," said Wolak, "so people say, 'Look, there is the technology'—that, even if we don't introduce it, someone will."
For now, though, they have proven that their solution can work. "They're proving that there's no reason it couldn't be done," said Horn. "The technology is there. When you have the President of the United States saying I wish we could do more with the technology—these kids showed that it's not a tremendous investment, and maybe if we changed a few laws we could protect schools."
About PTS:
Portable Technology Solutions, LLC (PTS) is a leading provider of user configurable, mobile data collection software and systems with over 7,000 active customers. As developers of the TracerPlus line of mobility software, the primary focus of PTS has been to create user customizable and affordable mobile data collection and integration software that does not require programming experience to configure, deploy or use. Founded in 2000 and headquartered in Calverton, NY, Portable Technology Solutions also maintains an active presence in Europe and partners with mobile hardware manufacturers, worldwide distributors, and OEM solution providers.
###