Campus-wide RFID System Tracks Books and Assets, Manages Access Control
Saint Louis University, in the Philippines, has deployed a solution from Image Innovations Services using PTS's ClearStream middleware and a variety of fixed and handheld readers.
Baguio, Philippines (February 18, 2018) - Saint Louis University (SLU), a private Catholic university in Baguio, the Philippines, has deployed an extensive radio frequency identification solution that encompasses student and employee access, asset tracking and library management, all on a single platform. The solution was provided by Image Innovations Services (IIS), using Portable Technology Solutions (PTS)'s ClearStream RFID middleware. The deployment started in the library, but the technology is now tracking individuals' ID badges, as well as asset tags at all campus and parking-lot entrances.
SLU, located approximately 250 kilometers (155 miles) north of Manila, has a student population of about 30,000. That includes not only college-level students, but also those in high school and elementary school. The university requires students and personnel to use ID badges to enter its campus, regardless of their schooling level. With the large flow of people entering and leaving campus all day, queues sometimes formed as individuals waited to tap their high-frequency (HF) RFID cards against a reader to be authorized to enter.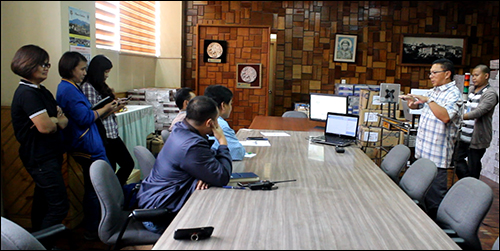 IIS traditionally provided access control and security to schools and colleges via PVC ID cards, says Jeff Catbagan, the company's owner. The firm launched with that technology in the 1990s, then began offering bar-coded cards, then cards with magnetic strips. About five years ago, it began providing 13.56 MHz HF RFID cards compliant with the ISO 15693 standard. One of its customers was Saint Louis University.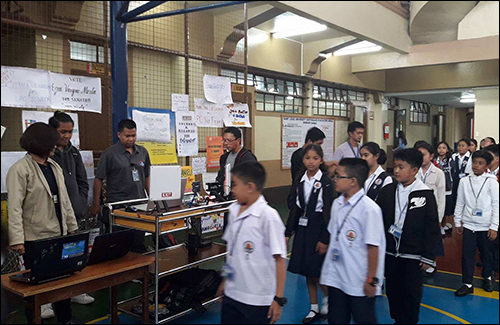 In 2015, the UHF RFID technology was taken live at the school's six-story Charles Vath Library Building, located on the main campus. Since then, it has tagged 200,000 items, including books and DVDs. Previously, RFID tags attached to books and media were read by a desktop reader before being removed from the library, but were otherwise rarely interrogated.
In 2015, IIS first demonstrated an ultrahigh-frequency (UHF) RFID-based solution to the university, in order to enable a faster, more reliable and seamless entrance to the campus, as well as to provide better data to managers regarding who entered and exited. However, the department that first deployed the system was the school's library, which was already using HF RFID for book and media management, and required a more reliable and automated system. Since it anticipated benefits that would quickly outweigh the installation costs, the university opted to begin planning the installation immediately.
With UHF RFID technology, the data can also be made available in other ways. The university installed Impinj Speedway R420 readers and Times-7 antennas at the checkout desks, as well as at portals for each doorway. It also acquired a Zebra Technologies RFD8500 handheld UHF RFID reader, to be used in Geiger counter mode.
Read Full Article at RFID Journal >>
Campus-wide RFID System Tracks Books and Assets, Manages Access Control - PDF
About PTS:
Portable Technology Solutions, LLC (PTS) is a leading provider of user configurable, mobile data collection software and systems with 7,000-plus, active customers. PTS -- developer of the TracerPlus line of mobility software along with ClearStream RFID creates user customizable and affordable mobile data collection and integration software that does not require programming experience to configure, deploy or use.
Founded in 2000 and headquartered in Calverton, NY, Portable Technology Solutions also maintains an active presence in Europe and partners with mobile hardware manufacturers, worldwide distributors, and OEM solution providers.